Ouidad
"
Queen of Curl
" is an internationally famous stylist, salon owner, mother, author and global educator. In 1984, she opened her first salon to cater exclusively to curly hair and is popular as pioneer of curly hair industry. Trademarked cutting, styling techniques and specialized line of award winning products designed by Ouidad have instilled confidence in curly and wavy haired people every where. She is appreciated by editors and peers for her progressive teaching style, extensive knowledge, informative website and dedication to curl education. Ouidad's future goal is to empower every stylist with knowledge of how to work with curls.
Get Started Kit
The Ouidad
Get Started Kit
is introduction on how to achieve and maintain beautiful nat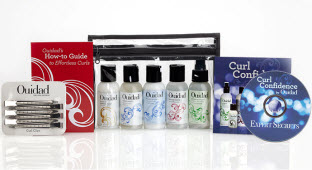 ural curls with Ouidad techniques, tips and award-winning products. At only $35, get an extraordinary value of 30% off on this travel-ready kit. 2.5-oz Deep Treatment alone is of $25 value, plus get four additional award-winning products, duckbill clips to define and lift curls and a 'How To Guide' showing simple step by step instructions on each. Kit contains:
2.5 oz Deep Treatment Conditioner

: Deep Treatment is foundation for restoring and maintaining hair's health and beauty. It feeds and strengthens curls with a combination of essential amino acids, proteins and effective moisturizers. Deep Treatment penetrates through hair cuticle to nourish internal structure of curls, restoring bounce and controlling frizz.
Due to a curl's tendency to lose nutrients and moisture, frequent deep conditioning is necessary to replenish mane's strength, allowing each strand to regain its internal weight and body and minimize tendency to frizz. Used with heat, mix of proteins and Amino Acids effectively penetrates hair to bond with the cuticle, leaving hair revived and restructured for enhanced performance.
2.5 oz Climate Control Gel

: Heat-activated European Wheat Protein has a shielding effect on hair that breathes with humidity, protecting hair shaft and preventing hair from expanding. Amino Acids and Vitamin A nourish and hydrate hair, leaving it soft, manageable and full of shine. Its water soluble nature leave no build-up. Whether heading out on a hot, humid day or prepping for a night out, Climate Control Heat and Humidity Gel blocks out excess humidity that creates frizz and fly-aways that can shorten life of your look. Even most unruly curls are left calm, cool and collected with a style that will last until decide to change it.
2.5 oz Clear & Gentle Shampoo

: Clear & Gentle Shampoo is a clarifying cleanser that removes styling product build-up plus ordinary environmental residue. This formula is gentle enough for delicate curly hair that is color treated. Clear & Gentle's low-foaming formula gently cleanses curls and give essential hair nourishment it needs. Ouidad's original, all-purpose shampoo is blended with essential Wheat Protein to restore hair's natural body and shine. Vitamin E and Jojoba Seed Oil help assure hair looks and feels its healthiest.
2.5 oz Balancing Rinse Conditioner

: Balancing Rinse Detangling Rinse & Conditioner has right blend of oil and wax-free moisturizers to leave hair silky soft, manageable and tangle-free without ever weighing it down or making it look or feel greasy. Designed to work with Clear & Gentle Shampoo, Balancing Rinse's oil-free, wax-free and animal fat-free formulation locks moisture into curls by closing each hair's cuticle layer and can be used as a leave-in conditioner without weighing hair down or leaving a heavy, greasy feel. By providing proper protein balance to revive dry, dull or damaged hair, Balancing Rinse breathes life into curls! Special detanglers help prevent over-stretching of hair while combing and a blend of wheat proteins and vitamins helps eliminate frizz, add softness and manageability.
2.5 oz Botanical Boost Spray Conditioner

: Botanical Boost Moisture Infusing & Refreshing Spray is a lightweight nourishing leave-in conditioner designed to soften, moisturize, detangle, fight frizz, protect from sun and make hair extra manageable. Blend of nourishing botanicals, anti-oxidants and conditioning aloe leaves hair healthy, locks in moisture and leaves curls less prone to breakage and damage from heat styling. Give hair an instant "botanical boost" throughout day or refresh curl pattern in morning without re-washing. It contains no oils or waxes to weigh hair down.
Not only this, kit also contain
Duckbill Clips
(6 pack), A book -
How To Guide
and
Ouidad's Expert Secrets DVD
. Original price of
Get Started Kit
at
Ouidad
is $35.00 only.